Alcatraz Tickets Regularly Sell Out, Especially the Night Tour.
If Alcatraz is Sold Out, Is There A Way to Still Get Tickets?
Yes!
The way is to hunt for a Combination Tour Package sold by a third party reseller. You may already know that Alcatraz City Cruises is the official concessionaire of the National Park Service -- providing ferry service to and from Alcatraz Island. This should be your first search, as they sell the tickets without any mark-up.
What you may not know, is that when Alcatraz City Cruises sells out of tickets, select third-party tour companies may have tickets that they are authorized to resell.
DiscoverTown Tours is one such third party -- an Official Tour and Travel Partner of Alcatraz City Cruises.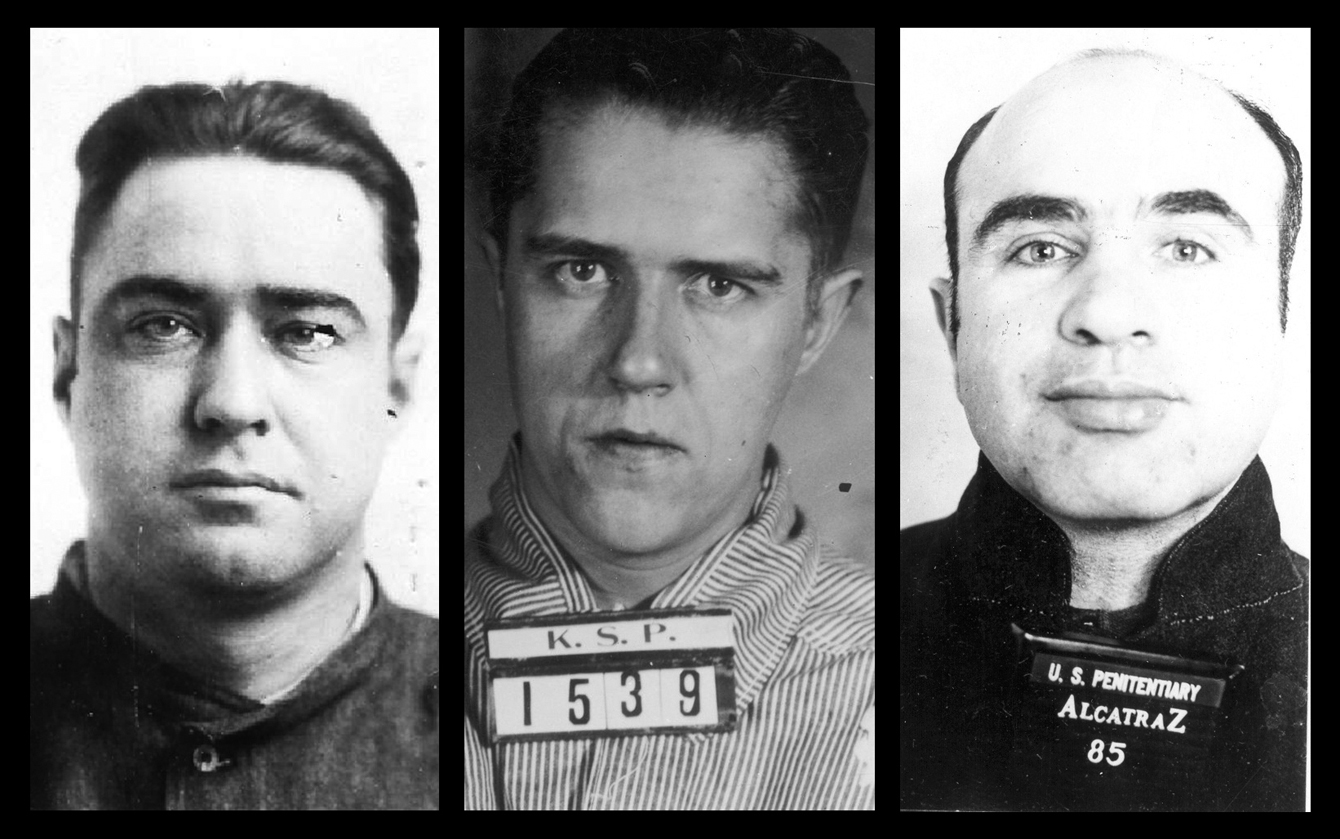 Alcatraz Inmates Kelly, Karpis, and Capone>
The Everybody Loves This Jail Blog
(Updated June 2023)

Getting Alcatraz Tickets:

More About Alcatraz:
Really. Everybody Loves This Prison!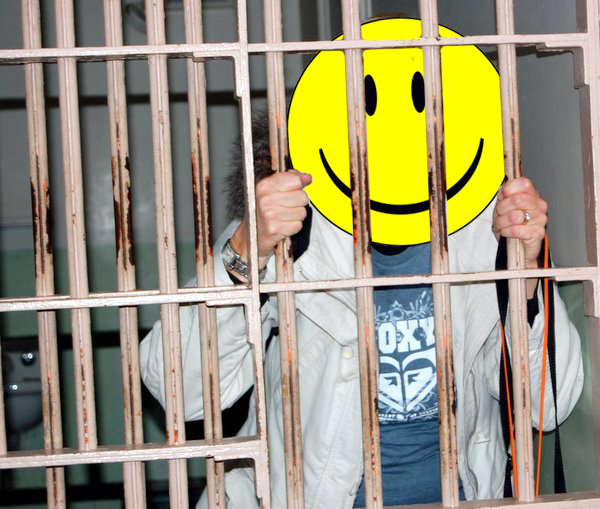 Why-does-Alcatraz-sell-out-so-much?
Alcatraz prison is actually pretty small. Its capacity was less than 500 inmates and it never had more than about 250 inmates at a time. The spaces open for tours can't allow too many people, and so the National Park Service has set it up to provide a positive experience by capping the number of visitors per day. It handles around 5,000 people per day during peaks and over 1 million per year, but San Francisco can see more than 25 million visitors per year -- so supply and demand issues can quickly arise.
Tickets to get inside Alcatraz prison sell out fast, often weeks in advance. The running joke asks why folks would strive so hard to get to jail.
The place has a strange aura to it. Some folks think it's haunted. It feels a bit like a cold, dark dungeon. And it's chock full of history. For these reasons and more, a trip to Alcatraz is quite memorable. The audio tour brings the Alcatraz alive, running like a great documentary, with sound effects and interviews while you see and feel it all.
Its reputation precedes it, and it consistently ranks among San Francisco's most popular attractions.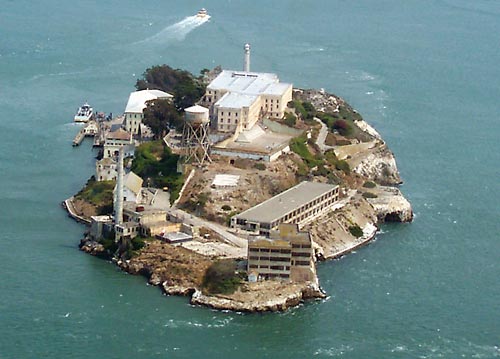 When is Alcatraz Most Likely Sold Out?
Peak periods for Alcatraz Tours run from May into early October… plus Easter, Thanksgiving, and Christmas holiday times.
Alcatraz Tickets sell out weeks in advance during peak seasons.
Tickets from 3rd parties must be purchased 4 days in advance.
Why are Alcatraz Tickets resold as part of a combination tour?
If you missed the opportunity to buy directly from Alcatraz City Cruises, tour companies selling tour packages is a viable option. Note that most resellers do not have Night Tour tickets.
Resellers operate under the rules of the National Park Service and Alcatraz Cruises, particularly the requirement to only resell Alcatraz as part of a combination tour package.
Tour packages are a great way to see more of the San-Francisco Bay Area and some of the wonderful sights it has to offer. However, if some guests choose to only go to Alcatraz, no one is forced to attend the additional tour(s) included in the combination package.
If you can put tickets/packages into your shopping cart here at discovertown.com, that means we have those tickets in stock and your search is over.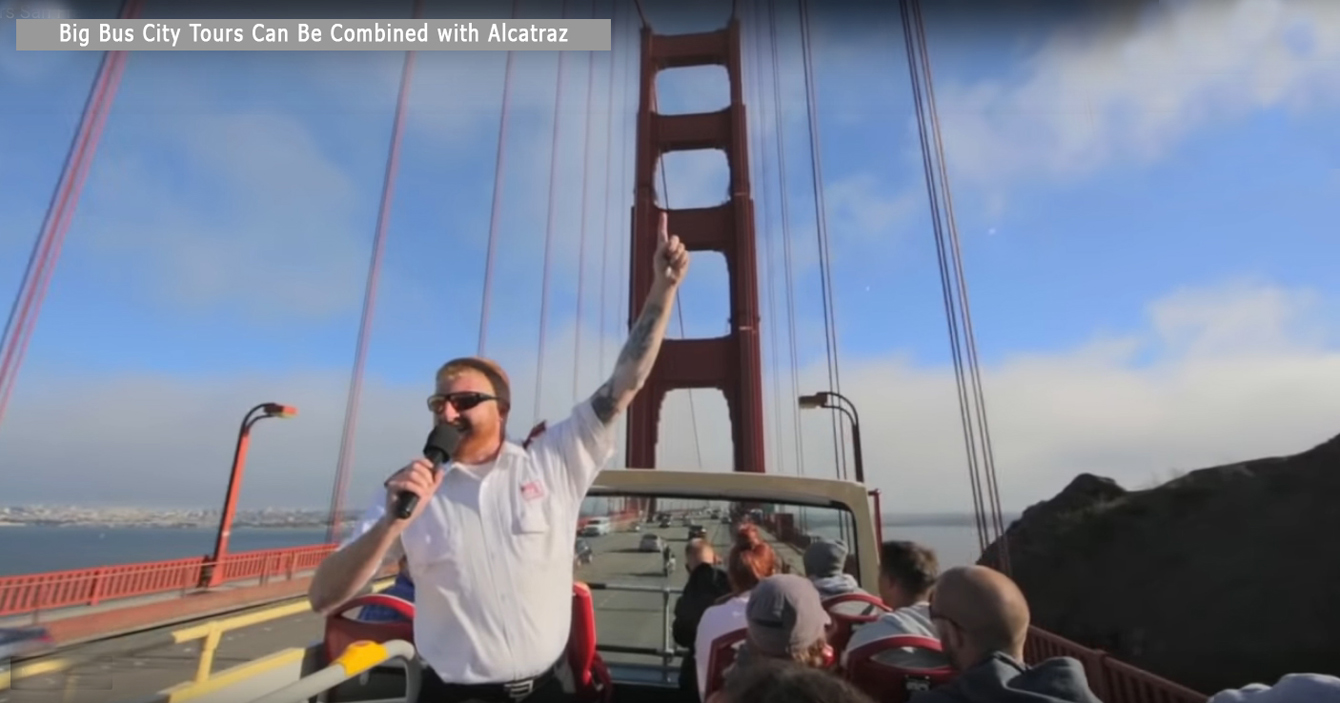 How do I get Sold Out Alcatraz Tour Tickets from a reseller?
Authorized resellers are able to acquire a very limited number of tickets in advance. These may be available for Alcatraz Day Tours or Night Tours.
Depending on the vendor, you may have to wait up to 48 hours to get a firm answer on availability. Some big sites like Viator, Trip Advisor, and Expedia use systems like this. Often you will be told Alcatraz tickets are actually not available. Furthermore, vendors have to pay high commissions to these companies – making the package price go up.
Smaller vendors like us pull directly from inventory. The Alcatraz tour tickets we sell are guaranteed. Once you make your purchase, the Alcatraz portion of your tour is locked in. Your Alcatraz tickets are taken from our pre-paid, limited allocation at the time of your purchase. We either have Alcatraz tickets, or we don't.
To obtain Alcatraz Tour Tickets, please follow one of the links below:
For a synposis on Tickets and Tour Packages, click here.
Can't I just get tickets from a scalper?
Alcatraz Cruises requires all purchasers over age 18 to show a photo ID that matches the name on the ticket. Alcatraz Cruises states that "visitors are required to show proof that they are the actual purchaser of a ticket, and if unable to confirm this 'proof of purchase' they may not be allowed on the boat." Previously reseller tickets just listed the name of the reselling company. Now all tickets include the name of the individual guest.
If StubHub or Craigslist actually has tickets, and you purchase a ticket with someone else's name on it, your photo ID won't match the ticket.
When Alcatraz Cruises is "Sold Out" - do they still sell same day Tickets?
Sold out is sold out. Previously the Alcatraz Cruises Same Day Ticket Advisory did set aside a very limited number of tickets for same day sale at 7:30 am on a first-come, first served basis. Some people would arrive at the cold, damp dock at 5:00 am. In the spring of 2019, this policy was cancelled. Alcatraz Cruises no longer has an allotment set aside for same day tickets.
Do you have Alcatraz Night Tours?
It is not common for resellers to have the Night Tour.
It is more tedious to manage the very small daily maximum for the Night Tour, and tour companies typically don't want to deal with it. So much so, that competitors have misstated that the Night Tour is only available directly from Alcatraz Cruises. That isn't accurate.
Yes, often, but for July and August, 2023, we do not have them. We think it's a great tour that makes a great niche, so we specialize in Night Tour packages during non-peak periods. It's a superb tour in high demand. It takes roughly 3 hours and is far less crowded than the day tour, and it includes presentations not available during the day. If you are looking for ghosts, people swear by the night tour. At the very least, the feeling is entirely different, and generally speaking, your fellow travelers on the Night Tour are more enthusiastic about the overall experience.
Review the Alcatraz Night Tour description tab on any Alcatraz Night Tour Package here on DiscoverTown.com. This tour sells out well in advance of the day tour.
These are very limited. Sometimes we do not even have them to sell at all.
If our Alcatraz Night Tour options are unavailable, try an Alcatraz Day Tour Package.
During peak periods we may not offer the Night Tour at all. We are not always able to obtain them for resale.

What About the Alcatraz Behind the Scenes Tour?

We do not sell the Alcatraz Behind The Scenes Tour. We know of no reseller that does. To our knowledge, these are sold only through AlcatrazCruises.com, and they sell out many, many weeks in advance.

What about a boat ride around the island as an alternative?

To be clear, some of our packages include a second boat ride (Bay Cruise with Blue and Gold Fleet), but the round trip to Alcatraz Island and inside the prison is the core of all of our combination packages.

If you search for other third-party combo packages, do ensure that the primary thing is a ticket that indeed goes to the dock and disembarks at Alcatraz Island. Some tour company web sites can be confusing or misleading, and you could end up with a Bay Cruise around Alcatraz plus a city tour – which would not get you on "the rock."

Bay Cruises are often underrated. Going under the Golden Gate Bridge is inspiring. The air is brisk and fresh, the views are fabulous, and it has that feel of a mini-adventure. Kids love it.

With Blue and Gold Fleet, there are snacks and adult beverages available to keep your party happy. Given the premium prices of third-party packages, a singular Bay Cruise is a fair option.

Other options to tour San Francisco Bay include Sunset Cruises, a sailing catamaran, a large capacity speedboat or local fishing boats leaving from Jefferson street (between Taylor and Jones Streets).

Alcatraz Cruises' website says they are the "The official website and only source for tour tickets to Alcatraz Island." This is confusing!

This language is a little unclear. Alcatraz City Cruises is indeed the only provider of ferry service to Alcatraz Island. They are the source of the ferry service. So you need an Alcatraz City Cruises ticket. They are the Official Concessionaire to the National Park Service. But they are not the only sellers of their tickets.

So cityexperiences.com/san-francisco/city-cruises/alcatraz/ is the Official Website. Iit is easier to enter their old URL, AlcatrazCruises.com, and that will redirect to cityexperiences.com. We are an Authorized Reseller of Alcatraz City Cruises, guided by their policies for Tour & Travel Operators.

They also say "Don't be fooled by unauthorized sellers..." but they don't immediately explain that they give select companies authorization for resale. If you go to Alcatraz City Cruises' FAQ page and find "FAQ's About 3rd Party Ticket Sales" you will see that they do authorize resale under restricted conditions, including tour packages.
More About Alcatraz:
Is there a lot of walking at Alcatraz?
The uphill climb is roughly a quarter mile rising the equivalent of 13 stories. The hill is steep in parts. It has flat sections and benches for you to catch your breath if needed. You'll probably stop for photos too. If someone in your party will have legitimate trouble making the climb, scroll down to learn wheelchair and mobility issues.
How long does the average Alcatraz Tour take?
Alcatraz Day Tours usually take 2-2.5-3 hours total time. The audio presentation inside the prison runs about 50 minutes. Boats leave the island every 30 minutes; you decide when to leave. Night Tours are on a set return schedule and the total time is just about 3 hours.
Art, History, or Social Exhibits on Alcatraz may also lengthen your stay. Currently there are two:
The Big Lockup: Mass Incarceration in the United States, which ties Alcatraz to the America's position as the world leader in incarceration, with 2.3+ million people behind bars – investigating race, education, and poverty among other issues; and Red Power On Alcatraz which highlights the 1969 occupation of Alcatraz by Native American activists – and many of the ongoing issues to which they called attention.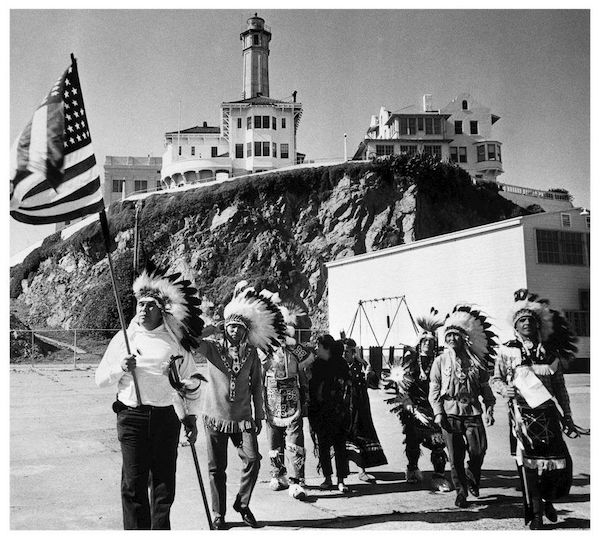 1969
During the day, there may be a queue to get on a return boat. You may not be able to get on a boat right away if enough people are in line before you. Then you may have to wait another 30 minutes for the next boat.
Figure 2.5 hours generally, but if you embrace all the exhibits and meander through the garden, it will take at least 3 hours.
What languages does the cell house audio tour offer?
The official tickets always include the Cell House Audio Tour in 11 languages (Dutch, English, French, German, Italian, Japanese, Korean, Mandarin, Portuguese, Russian and Spanish). DiscoverTown Tours sells this ticket.
For more details on the cell house audio and the island experience, click on the Alcatraz description tab once you are viewing any Tour Package page on this site.

How do I purchase an Alcatraz Tour package from DiscoverTown Tours
First head over to either the Day Tour or Night Tour category pages.

Then choose a tour package.
Pick an Alcatraz departure from within that package page.
Enter the number of tickets and choose an Alcatraz date and time from the drop-down menu. If you see a "Book Now" message, that means Alcatraz tickets are available for that date/time/quantity.
Upon purchase, your screen will show a five-digit invoice number confirming receipt.
Again, once you make your purchase, the Alcatraz portion of your tour is locked .. Your Alcatraz tickets are taken from our pre-paid, limited allocation at the time of purchase.
Once your full tour package is confirmed, there are NO REFUNDS OR EXCHANGES. At the time of purchase, you will check a box agreeing to these and other terms and conditions.
After your order is placed, your ticket count and the names of your group members will be given to Alcatraz City Cruises. Your Alcatraz tickets will be waiting for you on the day of departure. They will have been set aside from our pre-paid allotment and go only to you.
Is Alcatraz ever discounted?
If Alcatraz City Cruises is not sold out, they do offer a family bundle for 4 tickets at a slightly reduced rate. Other than that discounts are not available. 3rd party resellers may vary their package rates by season, but packages are at a premium by definition.
What is your voucher system?
Upon purchase for all products, you can save or print your Voucher. We will also send you a duplicate email-based Voucher. The Voucher confirms all reservations and includes instructions for taking a tour(s).
We recommend that you download the Voucher. Regardless, you should receive a duplicate email with the word "Voucher" in the subject line. This should come within 2 hours after seeing your purchase confirmation (showing a 5-digit order number). If you do not obtain a Voucher, please check your junk or spam box... Then if another copy is needed, please email us at discovertowntours@gmail.com, and we'll get one out asap.
Note that there is no bar code or pdf attachment in the email, so you do not need to search for one. THE EMAIL IS THE VOUCHER.
Can I purchase Alcatraz tickets at any time from you?
Although this website is open for business 24/7, we have a set number of tickets, so we advise that you make your purchase quickly to guarantee that we will have tickets for your desired date and time.
Our monthly allotment of Alcatraz is limited, so we may sell out of our small stock, especially during peak periods.
And within ten days before departure, we can't help.
Do you provide transportation to Alcatraz Landing, Pier 33?
No. You must get yourself to Pier 33 at least 30 minutes before the ferry departure time.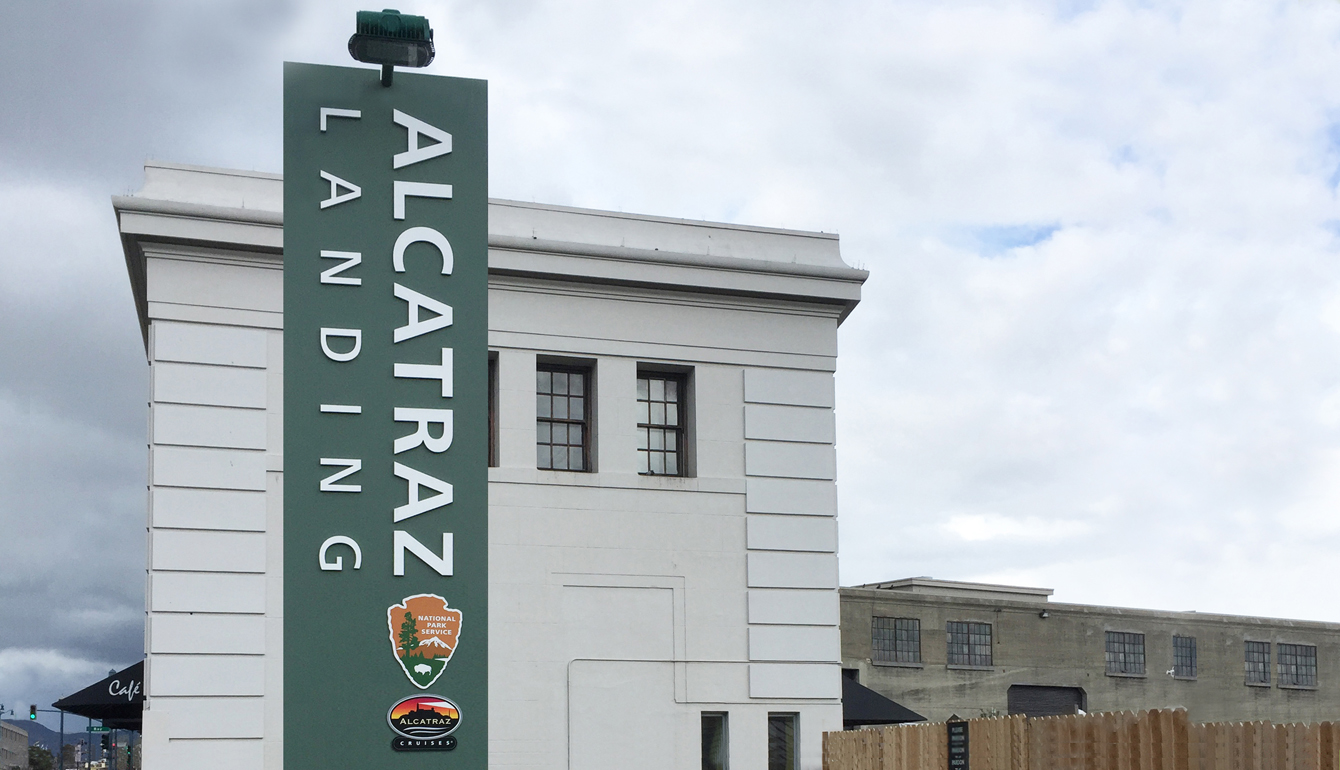 If the Alcatraz tour departure times you list are inconvenient, can I use my ticket for another time?
Alcatraz tour departures are time-specific and date-specific. The schedule departures we offer cannot be changed. Occasionally we may have referrals that might offer a different time.
For Alcatraz packages, when can can other tours be done?
Other tours can be done either before or after Alcatraz.
YOU CHOOSE the days for each tour.
For Alcatraz Packages that include Muir Woods, Wine Country, or the Sunset Cruise, you must select dates/times for these tours at the time you purchase the package.
Bay Cruises and Big Bus Tours do not require any date selection. But you may want to plan ahead as to which day you intend to activate those tickets and take those tours.
Bay Cruises and Big Bus Tours can be done the same day as Alcatraz - IF TIMED PROPERLY.
The Chinatown walking tour can be done on any day without reservation requirements. Instructions are included on your Voucher.
There are no hotel pickups for the hop-on-hop-off bus or the 1-hr Bay Cruise

If flexibility is important to you, these tours may offer your best option.

If you start the Big Bus hop-on-hop-off tour late in the day, your available hop-off time will be limited.
If you take the Big Bus hop-on-hop-off before the Alcatraz Night tour, it will be critical that you keep an eye on the clock and finish the tour at Fisherman's Wharf well in time to transition to the Alcatraz Night Tour.
Are reservations needed for Big Bus Hop-on-Hop-Off or Bay Cruise components?
NO RESERVATIONS ARE NEEDED for these tours.
YOU CHOOSE when to activate your Voucher: any time/day before Alcatraz…
This may be in the afternoon once you have completed Alcatraz… or possibly in the morning before the Night Tour (if you give yourself sufficient leeway)... or any time/day after Alcatraz.
We recommend the hop-on-hop-off tour for another day, when you have no major commitments in the evening.
You must get yourself to Fisherman's Wharf (Pier 43&1/2) for the Bay Cruise or get yourself to Union Square (Geary & Powell Streets) or Fisherman's Wharf (99 Jefferson Street) for the Hop-On-Hop-Off.
What about reservations for Muir Woods or Wine Country?
For these tours, within 24-48 hours you should receive final confirmation as we secure final reservations with our tour partners. Once confirmed, tours cannot be changed. All confirmed reservations are final sales.
If you have not received a final confirmation for this part of the tour package within 24-48 hours, please email or call us.
For Muir Woods or Wine Country, a courtesy shuttle is only available at Union Square with a reserved seat.
Note that a Muir Woods 9:00 am or 11:00 am tour can be done the same day as an Alcatraz Night Tour. The 2:00 pm Muir Woods tour cannot.

If Alcatraz Cruises and DiscoverTown Tours are both sold out, do you have referrals?
Yes, sometimes we can make referrals. Typically for the Day Tour, but possibly for the Night Tour. If the Alcatraz date you seek is unavailable, but more than four (4) days away, check out our Referral page. If we have referral dates that can help you, then Contact us for possible referral.
IF YOU ARE SEEKING TICKETS WITHIN 4 DAYS OF DEPARTURE, CALLING OR EMAILING US WON'T HELP. SORRY.
Is Alcatraz Wheelchair Accessible? How steep is the hill? What if I have mobility issues?
The ¼-mile walking road on Alcatraz is steep, equivalent to a 13-story rise over that distance. But the SUSTAINABLE EASY ACCESS TRANSPORTATION (S.E.A.T.) tram is there for guests with mobility issues.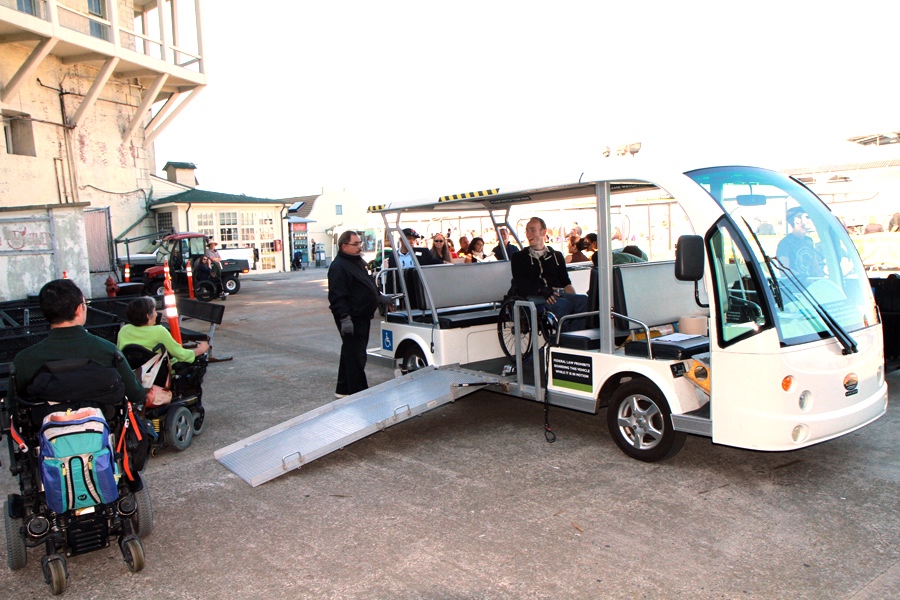 This tram is available roughly twice per hour. It runs from runs from the Alcatraz Island dock to the Cellhouse ... and back down to the dock. It has retractable ramps that allow for both manual and power wheelchairs.
Once at the prison, inside the Cellhouse there is an elevator.
Boarding S.E.A.T. is on a first come, first served basis. Guests with mobility issues using this tram may be accompanied by one other person in their group, space permitting.
Groups can meet up at the Cellhouse or the Alcatraz Island dock. S.E.A.T. is not for mobile children/strollers.
What about parking and traffic?
There is no parking at Pier 33 Alcatraz landing, but there are several commercial lots within 5-6 blocks. We recommend a Google Maps search under the phrase "parking near Pier 33, San Francisco".
Anticipate traffic after the early morning hours. By noon, and into the evening, the Fisherman's Wharf area can get very congested on weekends and during peak periods. This is especially true along The Embarcadero, where Pier 33 is located.
Are there weather concerns?
Expect fog or cool weather at any time. Wind-proof jackets are highly recommended for Alcatraz, Bay Cruises, and the open-air hop-on/hop-off bus. Skull caps are a smart idea.
Alcatraz tours are almost never cancelled due to weather. If it's raining, the tour still goes. It only cancels if the winds are so high that waves on the bay make it impossible for the ferry to dock at the island. This has happened perhaps once every 5 or 10 years.
How early should we arrive for the Alcatraz tour?
Plan to arrive at least 30 minutes before your departure, but not more than 2 hours early. You will not be able to get your tickets more than 2 hours before departure.
Can you bring food and drink to Alcatraz Island?
Food options are limited on Alcatraz Island. Light snacks are available at the bookstores. Quick snacks (including beer and wine) are available on the Alcatraz City Cruises inbound and return ferries.
Per the NPS website: Drinking fountains and water bottle stations are located by both restrooms - down at the dock and up by the lighthouse. Hot beverages are for sale at the Building 64 bookstore. Bottled water is available in all of the bookstores. Eating, drinking and smoking is only allowed at the dock. Beyond the dock, only bottled water in non-glass bottles is allowed to be consumed.
Are there limits on luggage? Is there any storage?
Bags larger than a regular backpack (16″ x 20″) are prohibited on the boats or Alcatraz - and there are no storage lockers at the dock.
What is your ticket pick up procedure? What else is there to know?
FOR ALCATRAZ TOURS: Bring your email Voucher that you will receive from DiscoverTown Tours to Pier 33, Alcatraz Landing. Go to the Groups Window at least 30 minutes before scheduled departure. You can show a printed copy of your Voucher or show it on your phone or tablet. If for some reason you do not have the Voucher with you, present your ID and tell the agent your name (primary customer) and that your purchase was made through DiscoverTown Tours. All travelers over age 18 must be prepared to show a government-issued photo ID - to match the names you entered when purchasing here on DiscoverTown.com.
We answer emails regularly. Normally at least once per day. See our Contact Page.
No Refunds or Exchanges on Alcatraz Packages. No Refunds for Missed Tours. No Refunds for Tours Not Used. At check out, you must check a box that you agree to the Terms and Conditions. Cancellation options for non-Alcatraz tours are limited by time. See Terms and Conditions.
Stripe.com does not collect credit card data. All credit card information runs through Stripe secure payment systems.
To return to our splash page, click here.
About DiscoverTown Tours